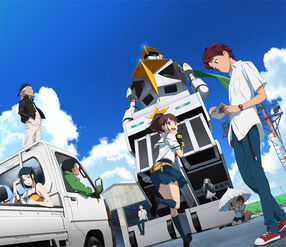 The anime adaptation for the visual novel Robotics;Notes was initially annouced on March 30th, 2012 by Fuji TV. The adaptation is animated by Production I.G. and premiered on the late-night television time slot Noitamina on October 11, 2012 in Japan. The adaptation is directed by Kazuya Nomura, while Jukki Hanada toke the lead with the series' scripts, with music by Takeshi Abbo and Yüki Hayashi.
Episode List
Edit
It'd Be Sad to Have a Dream End
Thank You Berry Much
I'm Nae Tennoji! Nice to Meet You!
Because It's the Product of Our Blood, Sweat, and Tears
A Robot That Only We Can Build
The Flag Has Been Cleared
Until You Like Something About Them
What a Screwed-Up World
Let's Stay Like This for a Bit
I'll Let You Dream
I Love Giant Robots
The Robotics Club is Hereby Disbanded!
The Real Gunvarrel is Standing Right There!
I Never Should've Had a Dream
Does She Still Like Robots?
Gunvarrel, Forward!
Now I'ts Time for Our Game
Ad blocker interference detected!
Wikia is a free-to-use site that makes money from advertising. We have a modified experience for viewers using ad blockers

Wikia is not accessible if you've made further modifications. Remove the custom ad blocker rule(s) and the page will load as expected.