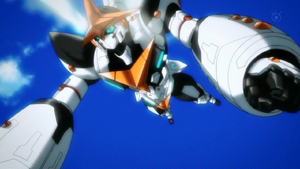 Gunvarrel is the famous robot from a popular anime series of the same name in the Robotic;Notes franchise.
Minami Kogori (Frau's mother) is the anime director of the series. When 13 of the staff were mysteriously killed off and Minami is gone, the last episode never aired. Rumors build around the last episode into the present.
Characters
Edit
Rozetta Yuuki - Main heroine
Genki Dotou - Gunvarrel's pilot
Characters are introduced as BOTs on Frau's computer.
Ad blocker interference detected!
Wikia is a free-to-use site that makes money from advertising. We have a modified experience for viewers using ad blockers

Wikia is not accessible if you've made further modifications. Remove the custom ad blocker rule(s) and the page will load as expected.